Power Line Equipment Safety
Accidentally contacting a power line can be dangerous and in some cases even deadly. CEC wants our members to keep a safe distance from power lines and other equipment the cooperative uses to bring electricity to your home.
Always remember to:
Stay away from power lines, meters, transformers and electrical boxes.

Don't climb trees near power lines.

Don't attach signs, basketball hoops, decorations, or fences to power poles.

Never fly drones, kites, balloons, remote control aviation toys near power lines.

If something does get caught in the line call the cooperative to remove it-- never try to knock it down or remove it yourself.

Be careful when carrying ladders, antennas, tools, cords, shovels, brooms, wooden boards, extended stick/handle objects near power lines.

Never touch or go near a downed power line even if you think it is not energized.

Don't touch anything touching a downed wire, pole or other damaged equipment.

Keep children and pets away.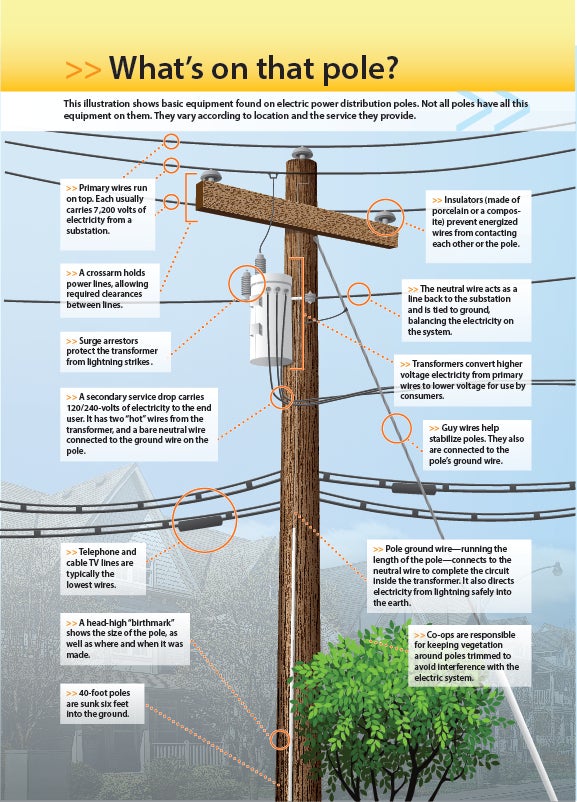 Look Up!
Overhead power lines carry thousands of volts of electricity. Accidental contact with one of these wires may result in serious injury or death. Almost all of these accidents can be avoided with greater awareness of the location of power lines and other electrical equipment in the vicinity. Always know the height of equipment/vehicles including antennas and stacks, as well as whatever you may be pulling before attempting going under power lines. Avoid going under power lines if possible. Always lower equipment before transporting.
If you come across damaged or downed equipment or you or an object comes in contact with wires or other electrical equipment notify CEC immediately.